Passion
is an online dating site. You may use the site to flirt, date and even fall in love. The site promises many profiles of the kind of people of your match.I joined the site to find love and some fun while dating. The first requirement for the site is registration. The whole process of registration is simple and fast. I was guided all the way through each step. I had to register so that I could check the site out. I went to the search pages and I found many women in my area who were also looking for love and some fun.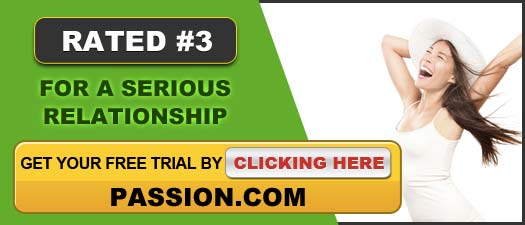 The Passion.Com site had done an incredible matchmaking with the kind of women I preferred. It had used the information I had given to do the matchmaking. It made it easy for me to view the profiles of those women.The site has many women profiles and most women are young and attractive looking for love and men to date and have fun with. I went through a number of profiles and what I saw interested me into wanting to know more. Some women were even able to send me messages. The Passion.Com is easy to maneuver and to find women. Immediately after registering, you are directed to search, where you search for the woman you prefer from the many profiles.
Membership
With free membership, I could only access the profiles without contacting the women. Since I wanted to read the messages that had been sent by the women who saw my profile and liked me, I upgraded my membership to gold. This gave me a chance to respond to the messages sent by the women.
The Passion.Com has two types of membership, silver and gold. Silver membership allows one to go to the search pages to search for the women, email them and send instant messages. You can also get a refund if you do not meet someone in 3 months. This is also known as money back guarantee. I did not choose this type of membership since I wanted to experience more with the website. I chose the gold membership, which gave me access to the features of the silver membership and unlimited access to other features of the Passion.com site. I could use the mobile app and chat with the women. The membership also allowed me to take part in group forums in addition to the accessing the members video section and the x rated movie theatre. All these benefits enabled me to meet with the best matches on the site. I could also communicate with them even on my Smartphone. This increased my chances of finding the one woman who would really interest me. I was interested with a woman who would have the interests, values, goals and personality that I was interested in.Being a member allowed me to access very many profiles and the best part is that I could use my phone. I even managed a date with a woman who was near my place while using the mobile app.
Profiles
Passion has millions of profiles and this makes it easy to find love because of the wide selection. I was advised to include a photo and fill out my profile. This gave me a better chance of finding a match. I also gave information of the kind of woman I was looking for. The profiles make it easy for the system to find a match, and that is exactly what happened in my case.I was matched with many women who had the characteristics that I was looking for and I went on dates with some of them. Since I was looking for a long-term relationship, I took time to know the women. I read profiles of the women before contacting them and this ensured that I narrowed down to the potential women – women that shared the same interests and goals with me, and women who were looking to find love, not just for one night but also for a long term relationship.
Hooking up on Passion.com
After going through the profiles, I selected the women I wanted to meet up with. This was made easy by the membership I was using. I could send and instant message or video to check the women out. I could also use my phone using the mobile app to communicate to those women. I managed to secure a number of dates. Although many women were reluctant to meet with me or to chat on video, there was good response.Most women who were attractive replied to my emails and ten showed up for the dates. I came to understand that some women were out for sex and not for a long-term relationship. This narrowed the ten to five, the ones I arranged for a second date. I now have two women I am going out with whom I am totally in love with. This is giving me a difficult time to decide which one to pick and the one to leave since I want them both.
Benefits of using Passion.Com to find a partner
I have realized that not all dating sites have fake profiles of women. It is also possible to find love out there on the internet. Passion.Com has made it possible for me to find love. It enabled me to meet different women who are attractive and outgoing with the same values and goals as I do. This is through its ability to match make. I also realized that if I had just wanted sex, there were many women on the website who were looking for a bit of fun and no strings attached relationships. Some were even ready to have sex on the same day.I made a wise decision to subscribe to gold membership. This allowed me to access many profiles and to communicate with the women using different means such as chatting, using video and also the mobile app. This made it easy for me to know if the women were real or fake.Passion has made dating easy and fun. It gives you access to many women profiles to choose from.
Social Share